Getting the right makeup can be considered an art form, thus we also call a beautician a makeup artist or makeup stylist. They study not just how to apply any cosmetic, but how the colors and chemicals present in the products work on individual skin tone, undertone, and skin type.
How does a makeup artist in Singapore know what is best for a client's skin? If you have skin allergies, for example, how will you know if the products the beautician are using won't harm your skin? Here are some pro tips you can borrow to improve your own makeup selection.
Cleanser, Moisturizer, and Toner
A makeup artist sometimes has to style busy clients who have no time to prepare for a makeup, that is why it's important to carry a facial cleanser, moisturizer, and toner before makeup is applied. In some cases, the beautician can also give the customer a facial a day before an important occasion. When choosing a facial cleanser, moisturizer and toner, read the label and determine which is right for oily, dry, sensitive, or normal skin.
Oily skin has large pores and a greasy sheen; dry skin is itchy, flaky, and feels tight; sensitive skin is prone to irritation; and normal skin does not exhibit any of the qualities mentioned. Dry and sensitive skin will need thick moisturizers, while normal and oily skin need thin ointment moisturizers.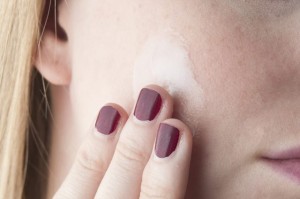 Makeup Primer
This is the colorless cream base for the foundation or makeup so that the application can last longer. A makeup artist selects a primer for a client based on what the skin needs; it could be for effect, correction, blurring imperfections, or moisturizing and sunscreen. For normal skin, avoid primers with matte effect, but pick either the usual pore-blurring or the dewy finish primer. Dry skin will need a primer with moisturizer and hydrating effects, but must also be light and creamy. Oily skin needs a mattifying primer with pore-minimizers and anti-acne ingredients. If you have sensitive skin, tell your makeup stylist to use a primer that is preservative- and fragrance-free.
Foundation
Getting the right foundation will help make your face look flawless, but most people get the color wrong all the time, according to most beauticians. An expert makeup artist, however, will always use the right type by considering each client's skin type. Oily skin will need a liquid foundation that is oil-free and has lightweight silicone (or silica if you pick a powder foundation), because most oily foundations can cause the makeup to break down and even clog the pores.
For dry or aging skin, a foundation that is hydrating, moisturizing, and has anti-aging formula is the best match. The product should contain glycerin to moisturize skin as well as sunscreen. For sensitive skin, mineral makeup without fragrance and preservatives should be your first choice. Most mineral foundations are in loose powder form, but there are also pressed powders that are talc-free. For normal skin, any type of foundation can work, but sheer liquids and light-reflecting formula types will best enhance the effect.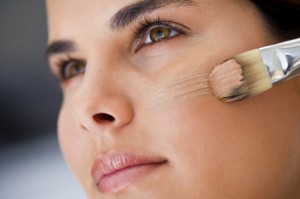 Powders
A makeup artist will use a yellow-based powder for fair skin that has pink undertones to avoid chalkiness. If you have fair skin but gray or yellow undertones, you will need a pink-based powder. For tan skin, copper-based powders are your best friend, while for medium tones, apricot-colored powders are ideal for your skin. For dark skin with gray undertones, a dark copper shade is the best powder for you, but if you have other undertones, the safest powder color would be dark brown. Lastly, a dark skin with tan will look fabulous with an iridescent powder.
Eyebrow Pencil
For the color of the eyebrow pencil, you will need to match it to your hair color, eye color, and skin tone. Red hair and pink skin tone will go well with ash-colored pencils. For brown hair, always stay within two shade ranges of the hair color; so, if it's light brown, pick a darker shade of brown, and if it's a dark brown, pick a lighter shade. For blond hair, always pick a color that will match the lightest shade in your hair with a slightly darker shade. For black hair, use a medium-brown eyebrow pencil so the eyebrows still look natural.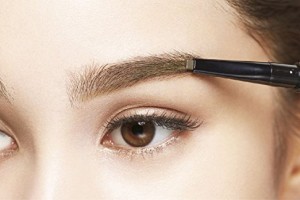 Eyeliner
When picking a color for an eyeliner, the makeup stylist will usually consider the color of your eyes. Blue eyes will need contrasting colors and warm metallics; green eyes need reddish tones; brown eyes need either earthy browns or waterlines; and hazel eyes need emerald, gold, plum or bronze colors. There are three different eyeliners that your makeup artist can choose from, such as gel, liquid, and pencil. Gels are good for creating precise lines, liquid is used for clean lines, while pencils are great for blending.
Lipstick
Picking a lipstick color requires the makeup artist to pay attention to the skin undertone, which could be cool, warm, or neutral. For cool undertones which exhibit red, pink or bluish hues, purple and blue shades are great, but avoid very light shades that will make you look pale. For warm undertones that have golden, olive or yellow hues, warm shades will look good on the skin. Don't be afraid to ask for orange and red colors from your makeup stylist in Singapore. Finally, people with neutral undertones have it the easiest because any color will look good on the skin.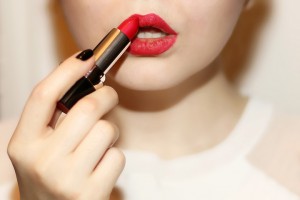 Eyeshadow Palette
The colors of your eyeshadow can help bring magic to your eyes, so unless you're attending a costume party, make sure that you pick the right colors. For fair skin, beige, soft pink, and tawny colors work well on the skin color, but avoid gray, red, frosty, and orange finishes. For dark skin, burgundy, bronze, bright berry, copper, bronze, and most metallic hues will look great on your skin, but avoid ashy shades. For neutral tones, you can use almost any shade as long as they complement the color of your lipstick.